Arroyo Santa Rosa Valley Groundwater Basin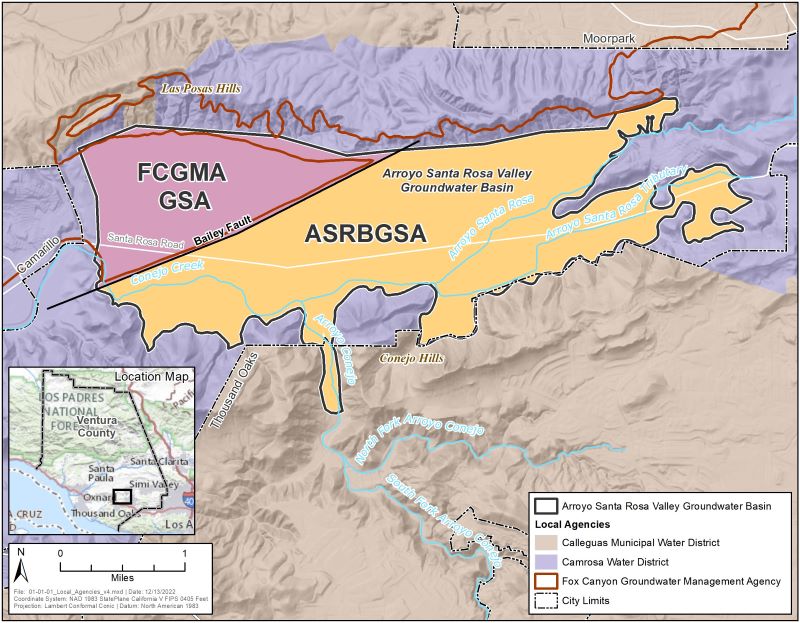 The ASRVGB is managed jointly by two Groundwater Sustainability Agencies (GSAs), Arroyo Santa Rosa Basin GSA (ASRBGSA) and Fox Canyon Groundwater Management Agency (FCGMA), which together provide full coverage of the Basin. The two GSAs are also designated as management areas for the Basin in the Groundwater Sustainability Plan (GSP).
Arroyo Santa Rosa Basin GSA
ASRBGSA was formed in 2016 to manage the portion of the Basin located outside of the FCGMA jurisdictional boundary.  ASRGBSA was formed pursuant to a joint exercise of powers agreement (JPA) between Camrosa Water District (Camrosa) and the County of Ventura. Camrosa provides retail water services to residential, commercial, and agricultural customers in the Basin and surrounding region. The County of Ventura exercises water management and land use authority on land overlying most of ASRVGB and provides jurisdictional coverage for a small portion of the Basin that lies outside of Camrosa's service area.  ASRBGSA is governed by a six-member board of directors, consisting of five directors appointed by Camrosa and one by the County of Ventura (currently Arne Anselm, Deputy Director, Ventura County Watershed Protection District). On December 8, 2016, ASRBGSA gave notice to DWR of its decision to form a GSA for the remainder of the Basin. DWR officially designated ASRBGSA the exclusive GSA for its portion of the Basin on March 8, 2017.
Fox Canyon GMA
SGMA identified the FCGMA as the exclusive GSA for basins within its jurisdiction; however, this only includes the portion of the Basin located west of the Bailey Fault. FCGMA is an independent special district formed by the California Legislature in 1982 (i.e., a special act district) to manage and protect the aquifers within its jurisdiction for the common benefit of the public and all agricultural, domestic, and M&I users. The FCGMA is also the GSA for the adjacent Pleasant Valley and Las Posas Valley Basins. On January 9, 2015, FCGMA elected to serve as the exclusive GSA within area of the Basin included within its statutory boundary, as provided for in Section 10723(c)(1) of the California Water Code. DWR officially designated FCGMA as a GSA for its portion of the Basin on May 12, 2015. For more information about FCGMA, please visit https://fcgma.org/